About Mike Petersen's Kempo Karate School
Mike Petersen's Kempo Karate School provides an exciting and dynamic atmosphere dedicated to the instruction on real world self-defense. Our focus is to teach realistic self-defense in a non-aggressive manner. Students will learn aspects of stand-up fighting, ground fighting, throws, chokes, joint manipulation and pressure points, as well as basic defensive weapons skills.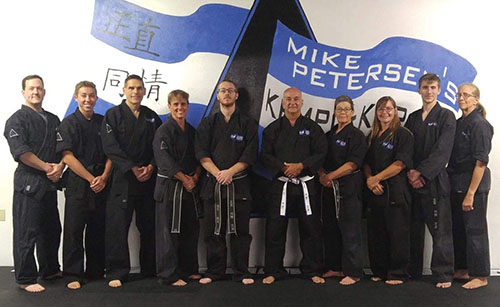 Our goal is to teach awareness skills and avoidance as your first line of defense, but to be able to defend ourselves if escape is impossible.
Operating in a sizable dedicated training area, Mike Petersen's Kempo Karate School's staff of certified instructors provides a small group atmosphere with the advantages of a large, diverse school. We constantly stress humility and acceptance in an effort to improve the Mind, Body and Spirit.
The School motto is: Integrity, Compassion, Loyalty
"Loyalty is earned- never demanded."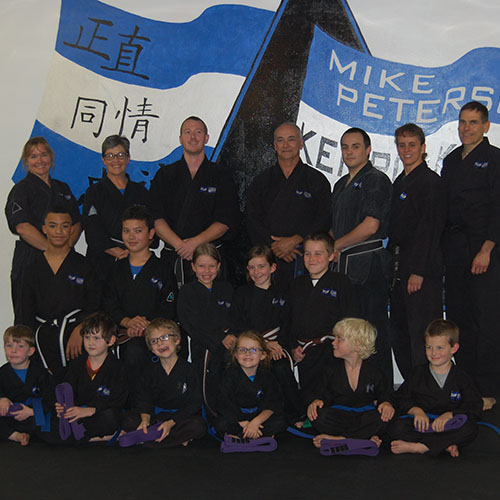 About Mike Petersen
Mr. Petersen's interest in Kempo-Karate began in 1997 while watching his then 9 year old son, Shaun, train at the Universal Kempo Karate School in Daleville, Virginia. Within a month, he joined the adult class under the tutelage of Professor Christopher Ragone, and soon after became interested in teaching Kempo-Karate.
He began assisting children's classes in early 1998, and by the time he received his black belt in 2001, he was teaching all ages. Fueled by his passion for teaching, he decided to open his own school in the New River Valley. His School opened on January 1st, 2002. Since then, both the School and Mr. Petersen's love for teaching have continued to grow.